Our View on Campus Openings
News reports have focused on the risks associated with opening our institutions. In recent weeks, we have seen many reports suggesting the number of actual and projected Cases on opened campuses will lead to many illnesses. If we allow fear to drive our decisions, we will fail our campus communities and our institutions.
We believe campuses can safely open and remain open until the data tell us otherwise.
Read Our View on Campus Openings, including updated data since our last report.
---
Stevens Strategy's "College Stress Test" Template
and Free Report
The College Stress Test, was written by Robert Zemsky, Susan Shaman and Susan Campbell Baldridge
Published by the Johns Hopkins University Press
This Stress Test is licensed by the publisher
To ensure safe flight, pilots are trained always to maintain Situational Awareness by conducting visual scans. These scans are especially important under unexpected emergencies. During a lightning strike, pilots will immediately scan to determine aircraft performance, while leaving other important gauges and indicators untouched.
Lightning has just struck your institution, and it's time for a scan of your critical gauges and indicators. While the operating environment of the past decade has been challenging for many colleges and universities, the international pandemic now has many school leaders questioning their ability to fulfill their mission and perhaps even the ability of their organizations to survive.
The enrollment challenge from the pandemic and projected declines in the traditional student market will have an impact on your bottom line.  You need to be prepared.
Have you seen the critical gauges recommended by Robert Zemsky, Susan Shaman & Susan Campbell Baldridge? They have designed a 'College Stress Test', a model that calculates an institution's risk of survival.   The data is easily obtainable from your institution's IPEDS Reports.  The calculations use eight years of data to compute stress based on four factors: enrollment, retention, market price, and a ratio of endowment to expenses.
Stevens Strategy, LLC has developed a template that estimates your college's stress. There is no cost for the test.  We have a simple online data matrix that can be quickly completed by your institutional research office and is automatically loaded into the 'College Stress Test" template to produce your institution's stress scores.  Then, Dr. Michael Townsley will email his analysis of the Zemsky Stress Test for your institution, and he and Robert DeColfmacker will call you to review the report and possible post-coronavirus tactics, again without charge.  Dr. Townsley and Mr. DeColfmacker have extensive experience successfully conducting situational analyses for many Stevens Strategy clients. Stevens Strategy's Founder and President, John Stevens, is always available to help as well.
Click here to get access to the Stevens Strategy Stress Test Template
---
Stevens Strategy's Focused Strategic Analysis Service
Institutions are periodically faced with big, hard, existential decisions: To turnaround or close in the face of financial infirmity, to anticipate a prospective adverse environmental development or to respond to a contemporary challenge to its long-held mission and values. The solutions to conundrums like these require institutional leaders and the campus community to accept and embrace fundamental change. Stevens Strategy is extremely successful in leading processes that help campuses face these existential challenges with optimism, determination, and ultimately, success. In other words, we help institutions make impossible change happen.
Our Focused Strategic Analysis service includes one or more of the following components:
The conduct of an emergency situational analysis and development of short and long-term turnaround plans;
The conduct, analysis and presentation of research on a difficult prospective strategic decision;
The facilitation of a cross-functional institutional team charged with conducting an objective analysis of a strategic decision and reporting regularly to the full campus community; and
The facilitation of the development of recommendations that will shape realistically the optimum scenario for the College's future so that the institution may thrive in the long term.
Click here to contact a Stevens Strategy Representative about our Focused Strategic Analysis Service
---
Stevens Strategy's Applicant Success Assessment Service
Applicant Success Assessment (ASA) for Retention and Graduation
Recruiting, admitting and retaining the right students are essential to the quality and financial success of all colleges, universities and schools.  Stevens Strategy's highly successful and scientifically validated Applicant Success Assessment service provides the critical information needed to determine which applicants are likely to succeed at your institution.  Our Applicant Success Assessment service is based on the science of people analytics and is designed to measure non-cognitive (i.e. personality, motivation) factors that are related to school and career success. This assessment tool goes beyond what traditional cognitive ability tests (e.g., SAT, ACT) can tell us to identify students who are likely to achieve in higher education. Moreover, unlike traditional cognitive ability tests, scores on our tool are not adversely impacted by sex, race, or ethnicity. Stevens Strategy's Applicant Success Assessment service can be used to (a) select high achieving students that other tests miss, (b) identify students who may struggle with secondary education, but may otherwise be successful in life (high risk / high potential students), (c) develop programs and interventions for these high risk / high potential students, and (d) fit students with colleges and universities where they are more likely to thrive.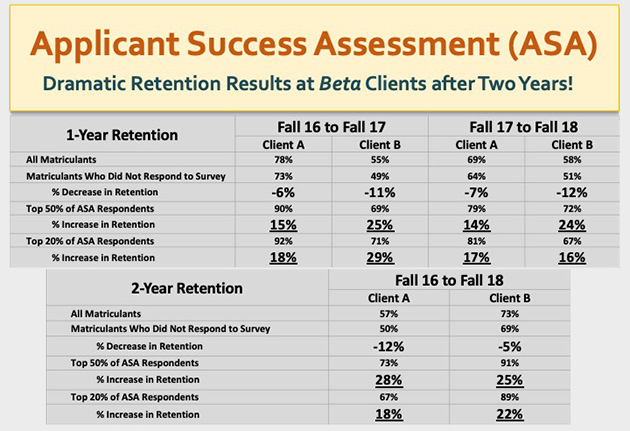 Click here to contact a Stevens Strategy Representative about our Applicant Success Assessment Service
---
Stevens Strategy's Chronos University™ Concept
Chronos UniversityTM is a revolutionary design of the university of the future.  Its unique approach will integrate technology-based instruction with on-site or remote small group projects and daily face-to-face interaction with learning coaches to promote student learning success. Chronos UniversityTM will revolutionize the delivery of high-quality liberal arts and pre-professional undergraduate education by:
Reinventing the role of faculty;
Boosting dramatically student learning outcomes through constant assessment;
Building careers through project-based internships with industry partners;
Providing accredited bachelor's degrees in as little as two and one-half years;
Reducing total cost per student to 45% of the average private college; and
Reducing the full-time book price to 65% of the average private college.
Stevens Strategy and Chronos UniversityTM are prepared to work with your institution to demonstrate this innovative concept to your campus community for possible wider application later.  The demonstration would be offered in one or more Centurion Group of 100 students each:
Chronos UniversityTM Campus Demo Site Instruction and Student Support Costs
Enrollment
One Chronos Centurion Group

100
Operating Costs
Courseware Cost (all Instructional Materals and Progress Analytics)
$189,000
One Learning Coach per 100 Students
$88,675
Two Assistant Learning Coaches per 100 Students
$101,340
Total Chronos Instruction and Student Support for 100 Students
$379,015
Per Credit Hour Costs
Chronos Instruction and Student Support Cost per Credit Hour
$126
US Average Instructional Cost per Credit hour, FY 2017
$610
Chronos Instruction and Student Support

Savings per Credit Hour

$484
Click here to contact a Stevens Strategy Representative about the Chronos UniversityTM concept
---
Stevens Strategy's Expedited Management Restructuring and Turnaround Support Services
In light of current external factors, such as declining student pools and the dramatic impact of COVID-19 on higher education, Stevens Strategy announces its "Expedited Management restructuring and Turnaround Support Service" for colleges and universities. Presidents seeking assistance in quickly identifying efficiencies in academic, co-curricular, financial and administrative operations will benefit from this service.
Stevens Strategy consultants have experience conducting multiple college turnarounds and organizational restructurings. Utilizing these skills, we will rapidly analyze and promptly provide reorganization recommendations for your academic programs, administrative operations, pricing and marketing strategies, budgeting systems and policy and procedure documents.
Click here to contact a Stevens Strategy Representative about our Expedited Management Restructuring and Turnaround Support Services